Entertaining animal games in My Free Zoo

My Free Zoo – The animal game experience
Lovingly created graphics, cute animations and enthusiastic zoo visitors – it's the virtual animals that are the true stars on the browser game My Free Zoo. As is common for an animal game, players are able to develop their own My Free Zoo here and tend to their furred, finned and feathered friends on this entertaining online game.
---
My Free Zoo
The concept of animal games
Playing with animals allow users to tend to a variety of different animal species, to breed them and to present them in their My Free Zoo.
My Free Zoo: The animal game fun
Due to its features and tasks the browser game My Free Zoo that belongs to the genre of animal games, ensures its players heaps of gaming fun.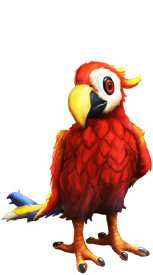 Colorful animal game features
All it takes is one click to make your animals happy. The browser game My Free Zoo lets players take on the role of zoo-director and tend to rabbits, pigs and many others animals. To reach their goals, they've got lots of great features at hand. Being fed, tended to and entertained will keep the animals that inhabit My Free Zoo happy. On top of that, players can expand their enclosures or equip them with different kinds of watering troughs.
The gaming areas of My Free Zoo
On My Free Zoo, the zoo is subdivided into different gaming areas. The main action takes place in the enclosures. The motto of the animal game is: the happier the animals, the more visitors will come into My Free Zoo, and with them, the money will come rolling in. Place buildings and decorations to upgrade these areas. This will gain the animal-game-users additional experience points and zoo dollars. This revenue, on the other hand, allows players to expand, adapt and embellish their My Free Zoo as they like it. There are countless different ways of planning and designing your zoo, ensuring you hours upon hours of entertaining gaming fun.
Upjers: play for free
The entertaining browser games made by browser-game provider upjers guarantee hours upon hours of gaming fun. The company has been producing these colorful online games since 2006 and has created, among others, economy simulations and car games. All upjers games can be played and enjoyed for free.
More Information
You can find all important information on My Free Zoo and detailed tips on how to play this animal game in the game forum.