Zoo games with a twist: My Free Zoo

My Free Zoo – the free zoo game fun
Cute animals, countless visitors and exceptional free gaming fun – that's what the new browser game by upjers, My Free Zoo, offers you. The entertaining online game lets you take on the role of a newly appointed zoo director and build your very own zoo with animals and enclosures.
---
My Free Zoo
The attraction of zoo games
A great layout, a fascinating concept and a load of entertaining features – that's what makes free zoo games so fascinating.
Gaming fun for everyone
No matter if you're old or young: due to their mixture of strategy game and zoo simulation, zoo games offer gaming fun to players of all ages.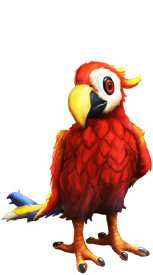 Free zoo game features
My Free Zoo offers a large variety of entertaining zoo game features. The selection of potential decoration-items is more than impressive by itself: the expandable My Free Zoo enables its players to place paths of different quality, length and material. Among those are sand paths, asphalt paths and even patterned paths or natural rock paths. In principle, any upgrade players carry out in zoo games, will gain them experience points or zoo dollars.
My Free Zoo's gaming areas
My Free Zoo has a variety of different gaming areas which, however, differ in their functions. In enclosures, players feed their animals and entertain them. Food and soda stalls bring in zoo dollars, as do restrooms. These, as well as personnel, help increase the visitors' contentment. The happier the animals and zoo-visitors, the faster your own zoo on My Free Zoo will develop. In addition to that, players receive exciting quests whose completion will gain them great bonuses. Thus, each of My Free Zoo's gaming areas adds to the harmonious total. With each new level, the options of planning and decorating zoo games will increase as well.
Free to play: browser games made by upjers
The urge to play is a basic human desire. Even better, if games can be played for free. Since 2006, German browser game-producers upjers have been developing online games that can be played for free in any web browser. These online games include, among others, the genre of zoo games.
Learn more about the game
Additional information, tips and tricks on the topic of free zoo games can be found in My Free Zoo's game forum.