My FreeZoo – Gaming fun in your browser

My Free Zoo – animal game fun in the Freezoo
My Free Zoo offers you heaps of beastly gaming fun. The colorful browser game lets you take on the role of a zoo director. You'll plan and decorate your own freezoo, your very own personal animal park that offers you a multitude of different ways of arranging and embellishing it.
---
My Free Zoo
A captivating Freezoo
There is no "too old" or "too young". Animal games like My Free Zoo offers you a lot of joy and fun. Try this free browser game and become a zoo keeper.
The freezoo idea
My Free Zoo is a mixture of zoo-simulation and strategy game. The concept: you'll build and manage your own free zoo.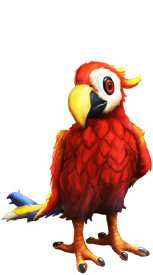 The Freezoo-Features
On My Free Zoo you'll have a large variety of entertaining features at hand. The game's goal is, to build and develop a successful zoo that is popular with the visitors. To reach that goal, you'll have to tend to your animals. The happier they are, the happier your zoo's visitors will be in turn. This will gain you zoo-dollars, who'll allow you to buy freezoo items and embellish your animal park.
The Freezoo-areas
My Free Zoo has got different areas. The central area, in which the major part of the action on this game will take place, is of course the Freezoo with its enclosures. You'll be able to select the enclosures you wish to place yourself and choose from a variety of different landscapes, such as grassland, rocks, savanna, forest, jungle, ice and water. Additionally, you'll be able to place a large variety of different shops in your zoo. Soda stalls, café-booths, souvenir-shops and burger-stalls – you've got a wide range of buildings at hand. The game also offers numerous different flowers, bushes and trees – from violets and tulips to dahlias and roses.
Upjers-games: a free experience
Free browser games – this is what Bamberg-based game-developer upjers has specialized on since 2006. Millions of internet users worldwide are enjoying these colorful online games that can be played directly inside your browser. These include the entertaining game My Free Zoo.
More information on My Free Zoo
For tips, tricks and information on Freezoo-topics, please visit the My Free Zoo-forum.